News from St. Clare
Subscribe to posts
On Sunday, December 9, 2018 some members of the St Clare Children Choir, under the direction of Mr. George Poppe, made the trek to Angelina's. They brought Christmas joy to all and they did it outdoors to boot. Well done choir members. We are so proud of you. Please enjoy the pictures here.
Join us for our annual Ecumenical Thanksgiving prayer service. Every year we come together in Christian unity as brothers and sisters with Great Kills Moravian Church and Great Kills Christ Lutheran Church to give thanks. Pastor Wolfgang Laudert of Christ Lutheran Church will offer the reflection and Pastor Tracy Pryor will lead us in the first reading. We hope you will join us. 
Refreshments will be provided after the service. See you then.
Date: Tuesday, November 20, 2018
Time: 7:30pm
Location: Our Church
You are cordially invited to join us this Sunday, November 11, 2018 at 1:00pm for a special mass in honor of and in thanksgiving for our Veterans and members of the Armed Forces. Veterans and their family and friends are particularly invited to this mass. See you then.
Thank you for your service.
Learn how to save a life
Narcan is a nasal spray that reverses opioid overdoses. 
Please join us to learn how to administer it and save a life. 
To reserve a seat in this training class, contact 
Linda Rizzotto
, St. Clare's Parish Counselor at
718-984-8456 or
via email at
lrizzotto@stclaresi.com
or
Marie Noel
, Pastoral Associate at
718-984-7873 or email: mnoel@stclaresi.com
Every participant will leave with a free Narcan kits. It is imperative that you register so we can make sure we have enough kit for everyone. 
On Sunday, September 30th at 4:30 p.m. in the Murphy Center, our priests: Fr. Richard, Fr. Brendan and Fr. Patrick sat together with parishioners to dialogue on the sex abuse scandal after the Pennsylvania Report. Together we discussed the scandal, addressed concerns our parishioners had and we shared thoughts on how the Church can move forward. Thank you to all who attended. We hope our time together provided some healing comfort and some clarity. Please find the pictures below. You may also click on the podcast to listen to Cardinal Dolan's presentation sharing with us the steps the Archdiocese has taken to keep our children safe.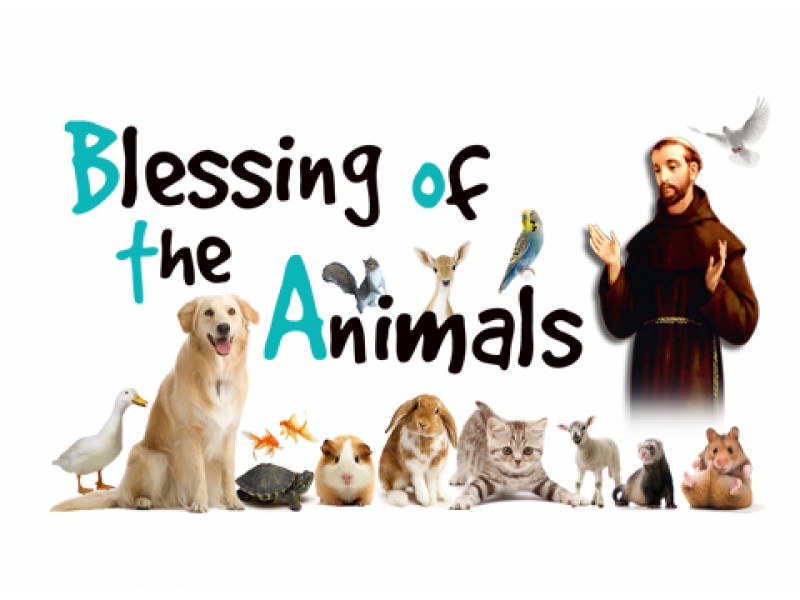 Bring your pets and join us on
Sunday, October 7, 2018
for the Blessing of the Animals.
Time: 4:00 p.m.
Location:
Play Ground behind the Presentation Center
See you there.
Join us to watch the film "I Can Only Imagine", the true story about a chart topping Christian song
 and the forgiveness between an abusive father and his song-writer son.
Tuesday, October 9 from 6:45 p.m. to 9:30 p.m.
Murphy Faith Formation Center
A discussion led by Sr. Grazyna Michniewicz, Srs. of Charity-Halifax will follow.
All are welcome
Of all the pains that life can hand us, arguably one of the most searing is the death of a child. As Jesus joined his distraught disciples on the road to Emmaus after his crucifixion, we ask him to join each of us in this ministry as we continue on our difficult journeys from grief to the healing peace that we, like Jesus' disciples, can find in the Eucharistic community.
To meet the spiritual needs of parents whose children of any age have died by any cause—no matter how long ago—the Family Life Office offers the Emmaus Ministry for Grieving Parents. A unique, faith-based program providing spiritual retreats for grieving parents offered by grieving parents, the Emmaus Ministry offers a safe place where you can find peace, comfort, and hope, at least for a time. The entire retreat focuses on the parents' personal spiritual journey, where one can engage as much or as little as one wants.
 One day Retreat
St. Francis of Assisi,
San Damiano Hall (Manhattan)
135 West 31st Street,
New York City, NY 10001
9:30 a.m. - 7:30 p.m.
 $25 per person, $40 per couple
Cost includes breakfast, lunch, dinner, and all retreat materials. Scholarships are available. Pre-registration is required
 To register: www.emfgp.org/2018-archny
or contact Sue DiSisto at:
susan.disisto@archny.org
or (646) 794-3191

On Sunday,
September 16th
, the Church will celebrate Catechetical Sunday to acknowledge and thank all Cathechists who dedicate themselves to hand on the faith and enlist witnesses for Christ. On this occasion, I would like to thank all of our catechists on behalf of our children, parents, and parish for their commitment to our children. In their ministry they assist our parents in keeping the promise they made at the baptism of their children to raise faith filled and informed catholic families. Also we thank all of the helpers who assist our catechists in their mission. Please join us at the
1pm Mass
to renew your commitment and to be recognized by the community for your amazing service. May God bless and reward you for your invaluable service.