News from St. Clare
Subscribe to posts
If you were at mass with us on Palm Sunday, Saturday, April 13th at 5pm and Sunday, April 14th at 7pm you probably participated in the book signing for Fr. Patrick's book, my Easter Companion. Thank you so much for your support and for making the book signing a success. If you missed us on Palm Sunday, no worries. The books are available in the rectory for a donation of $15-$20. You can also
click here to purchase a copy on Amazon.
Father will gladly autographs it for you. The proceeds from the book sale will provide water to help the Seminary, which Fr. Patrick and all of our Ghanian priests attended remain open. So even if you do not want a book, make a donation to this great cause.  Thank you again for your support.
Fr. Brendan will be presenting a Lenten program on Tuesday evenings March 12, 19, 26, April 2,and 9 at 7:30 p.m. The program will be repeated on Friday mornings March 15, 22, 29, April 5 and 12 at 9:45 a.m.  Both sessions will be in the Murphy Center. See the bulletin for further details.
March 12/15:  Encountering the Dying Jesus
March 19/22:  Encountering Those Who Rejected Jesus
March 26/29:  Encountering the Mercy of Jesus
April 2/5:         Encountering the Love of Jesus
April 9/12:       Encountering the Mother of Jesus
On Sunday, February 10, 2019, some our married couples joined us at the 1:00pm Mass to celebrate National Marriage Week. What a blessing it was witness seeds of love growing.
Thank you to all the couples who joined us for that mass. We pray that God continues to bless your marriage and guard over your family.
On Sunday, September 30th at 4:30 p.m. in the Murphy Center, our priests: Fr. Richard, Fr. Brendan and Fr. Patrick sat together with parishioners to dialogue on the sex abuse scandal after the Pennsylvania Report. Together we discussed the scandal, addressed concerns our parishioners had and we shared thoughts on how the Church can move forward. Thank you to all who attended. We hope our time together provided some healing comfort and some clarity. Please find the pictures below. You may also click on the podcast to listen to Cardinal Dolan's presentation sharing with us the steps the Archdiocese has taken to keep our children safe.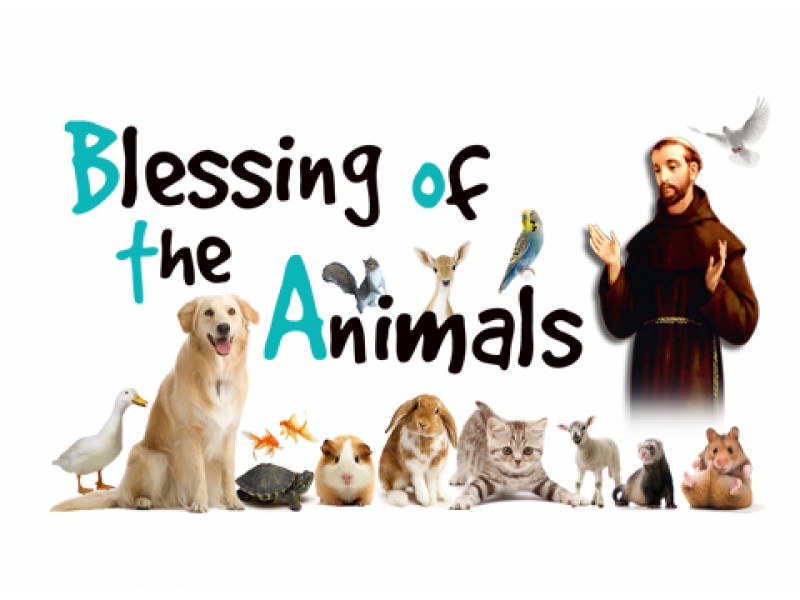 Bring your pets and join us on
Sunday, October 7, 2018
for the Blessing of the Animals.
Time: 4:00 p.m.
Location:
Play Ground behind the Presentation Center
See you there.
Join us to watch the film "I Can Only Imagine", the true story about a chart topping Christian song
 and the forgiveness between an abusive father and his song-writer son.
Tuesday, October 9 from 6:45 p.m. to 9:30 p.m.
Murphy Faith Formation Center
A discussion led by Sr. Grazyna Michniewicz, Srs. of Charity-Halifax will follow.
All are welcome
Of all the pains that life can hand us, arguably one of the most searing is the death of a child. As Jesus joined his distraught disciples on the road to Emmaus after his crucifixion, we ask him to join each of us in this ministry as we continue on our difficult journeys from grief to the healing peace that we, like Jesus' disciples, can find in the Eucharistic community.
To meet the spiritual needs of parents whose children of any age have died by any cause—no matter how long ago—the Family Life Office offers the Emmaus Ministry for Grieving Parents. A unique, faith-based program providing spiritual retreats for grieving parents offered by grieving parents, the Emmaus Ministry offers a safe place where you can find peace, comfort, and hope, at least for a time. The entire retreat focuses on the parents' personal spiritual journey, where one can engage as much or as little as one wants.
 One day Retreat
St. Francis of Assisi,
San Damiano Hall (Manhattan)
135 West 31st Street,
New York City, NY 10001
9:30 a.m. - 7:30 p.m.
 $25 per person, $40 per couple
Cost includes breakfast, lunch, dinner, and all retreat materials. Scholarships are available. Pre-registration is required
 To register: www.emfgp.org/2018-archny
or contact Sue DiSisto at:
susan.disisto@archny.org
or (646) 794-3191

On Sunday,
September 16th
, the Church will celebrate Catechetical Sunday to acknowledge and thank all Cathechists who dedicate themselves to hand on the faith and enlist witnesses for Christ. On this occasion, I would like to thank all of our catechists on behalf of our children, parents, and parish for their commitment to our children. In their ministry they assist our parents in keeping the promise they made at the baptism of their children to raise faith filled and informed catholic families. Also we thank all of the helpers who assist our catechists in their mission. Please join us at the
1pm Mass
to renew your commitment and to be recognized by the community for your amazing service. May God bless and reward you for your invaluable service.
Join us this summer as we watch some of the best recent movies.
 Mondays at 7 P.M. in the Murphy Faith Formation Center located below the Lady Chapel.
Save the dates!
July 23:  Wonder starring Julia Roberts, Owen Wilson and Jacob Tremblay
August 6:  The Post starring Meryl Streep and Tom Hanks
August 20:  The Greatest Showman starring Hugh Jackman