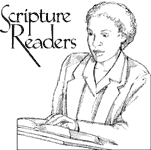 "When I found your words, I devoured them; your words were my joy, the happiness of my heart, Because I bear your name, LORD, God of hosts" (Jeremiah 15:16)
Do you feel called to Proclaim the Word of the Lord? If so we want YOU to serve as a Minister of the Word (Lector)!!!
We are seeking additional members to join our Ministry of the Word team. If you want to read but have never done it before, don't worry training will be provided. High School students are welcome.
If interested, please contact Marie Noel at 718-554-8124~~passociate@stclaresi.com